Omelets are a popular protein-packed breakfast choice because they're filling, are easily customized to suit various tastes and dietary preferences, and are downright tasty. These stuffed creations grace the menus of popular breakfast chains across the country; however, some of these chains' culinary creativity has gone a little too far, transforming this classic breakfast dish into a nutritional nightmare.
"Omelets are customizable and versatile, which can be a good thing—or result in an unhealthy, calorically dense meal," Roxana Ehsani, MS, RD, CSSD, LDN, a registered dietitian nutritionist in Miami, Florida, tells us.
That's because omelets are made with much more than just eggs. "Some omelets may be made by using lots of butter or oil, multiple types of cheeses (or just a lot of cheese), whole milk or cream, and high-fat and high-sodium toppings like bacon, deli meats, or breakfast meats like sausage," says Ehsani.
It can get much worse, as many restaurants offer high-calorie, high-fat, and sodium-laden foods on the side. "Adding pancakes, waffles, croissants, biscuits, or toast slathered in butter boosts your calories, saturated fat, and sodium numbers even further," says Bonnie Taub-Dix, RD, a registered dietitian and creator of the website BetterThanDieting.com.
To shed some light on the breakfast orders that could be sabotaging your healthy eating goals, we scoured menus to expose the worst offenders when it comes to omelet choices. These egg breakfasts are loaded with calories, sky-high sodium levels, and fat, making it clear that they're worth skipping during your next morning meal out.
Here are eight of the unhealthiest omelets to never order at a restaurant chain. Read on to discover what they are, and next time you're heading out to breakfast, make sure to build a healthier omelet with tons of veggies added and leave out additional high-fat or high-sodium ingredients like cheese and breakfast meats, suggests Ehsani. "Maybe pair your healthy veggie-filled omelet with a side of fruit, roasted veggies, a bed of greens, or whole wheat toast for a more nutritious side choice," she adds.
For more, don't miss 14 Healthiest Fast-Food Breakfasts, According to a Dietitian.
Per omelet (includes hash browns & white toast): 1,140 calories, 77g fat (23g saturated fat), 2,110mg sodium, 63g carbs (3 g fiber, 7g sugar), 44g protein
Although this omelet does contain veggies, it still has over 1,000 calories. Plus, it contains nearly a day's worth of recommended sodium intake.
"The Ultimate Omelette contains three eggs, sausage, bacon, veggies, and cheddar cheese. It contains over half your calories for the day, if you are following a 2,000-calorie diet, plus hits your daily needs for fat all in one dish," says Ehsani. "For anyone following a 2,000 calorie diet, fat needs are between 44 to 78 grams a day, and this omelet hits 77 grams, which nearly goes over this and exceeds your saturated fat goals for the day by almost double. Hitting 23 grams of saturated fat, when the goal for saturated fat should be no more than 13 grams a day. It also nearly meets your sodium limit for the day, as it packs 2,110 milligrams of sodium and the recommendation by the American Heart Association is no more than 2,300 milligrams a day."
Per omelet: 1,270 calories, 100g fat (36g saturated fat), 2,630mg sodium, 18g carbs (1g fiber, 5g sugar), 74g protein
This omelet has the highest calorie count of any omelet on this list.6254a4d1642c605c54bf1cab17d50f1e
"This omelet packs bacon, shredded beef, pork sausage, ham, and cheddar cheese which are all add-ins that are high in total calories, fat, saturated fat (the unhealthy type of fat), and sodium," says Ehsani. "This omelet exceeds your daily needs for both total fat, saturated fat, and sodium all in just one dish. It's best to avoid this one, especially if you are searching for a healthy and heart-healthy option."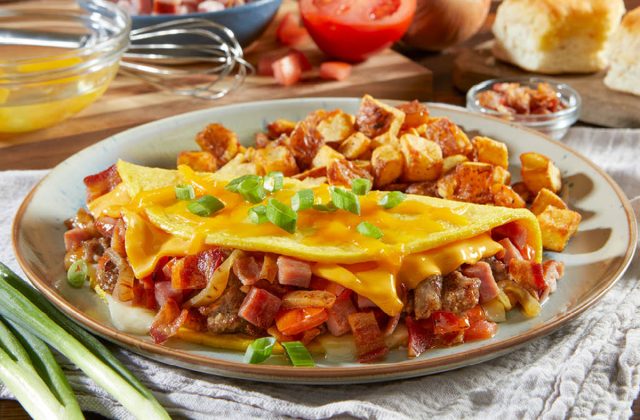 Per omelet: 1,130 calories, 86g fat (32g saturated fat), 3,570mg sodium, 22 g carbs (3g fiber, 10 g sugar), 69g protein
With just meats and cheeses, there are few redeeming qualities about the omelet other than its high protein count.
"The three meat & cheese omelet at Bob Evans contains eggs, sausage, ham, bacon, and three types of cheese, provolone, American and cheddar cheese," says Ehsani. "Meat and cheese lovers will be sad to learn this one exceeds sodium for the day hitting over 3,500 milligrams in one dish, and exceeds both total fat and saturated fat for the day. It's also low in fiber, so overall not a heart-healthy omelet to have."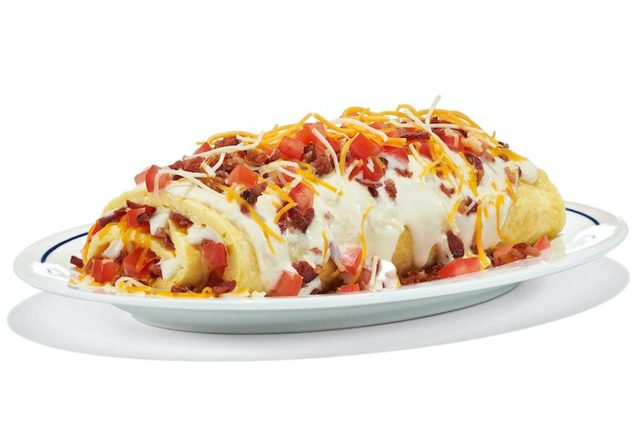 Per omelet: 1,190 calories, 90 g fat (35 g saturated fat), 2,930 mg sodium, 20 g carbs (1g fiber, 6g sugar), 72g protein
If you're ordering a bacon omelet, the fat content will already be high. But this one is also topped with decadent cheeses and cheese sauce.
"This omelet is packed with bacon, jack and cheddar cheese, white cheese sauce, then topped with more bacon. If you love bacon it's better to just get it on the side with some eggs, as this omelet takes it overboard," says Ehsani. "This omelet also contains less than 1 gram of fiber, an essential nutrient most Americans struggle to get, and exceeds total fat, saturated fat, and sodium daily limits, just in one dish."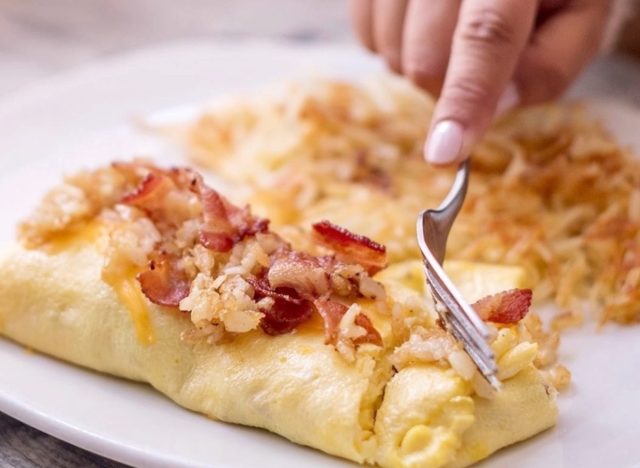 Per omelet: 1,030 calories, 79 g fat (29 g saturated fat), 1,920mg sodium, 35 g carbs (3g fiber, 4 g sugar), 47 g protein
With three kinds of meat and potatoes that come in tater tot form, this omelet is high in fat, calories, and sodium.
"This omelet is stuffed with pork sausage, bacon, diced ham, crispy tots (tater tots), and cheese. It also comes with hash browns or breakfast potatoes and a choice of pancakes, a muffin, or toast," says Ehsani. "If you love meat and potatoes, just choose one meat and one serving of potatoes, this omelet combines multiple ones which just results in an unhealthy choice."
Per omelet: 630 calories, 53 g fat (20 g saturated fat), 920 mg sodium, 3g carbs (0g fiber, 3g sugar), 33 g protein
Although this omelet has the lowest calorie count on this list, the cheesesteak and American cheese it's stuffed with aren't doing your health any favors.
"Waffle House's cheesesteak omelet is filled with their cheesesteak, American cheese and served with a side of toast and your choice of grits or hash browns, which will add even more calories to your plate," says Ehsani. "This omelet is the highest calorie option on the Waffle House menu, exceeds saturated fat goals for the day, and contains zero grams of fiber, which doesn't make a nutritious meal. Most meals should have around 10 grams of fiber to get you to meet your goals for the day."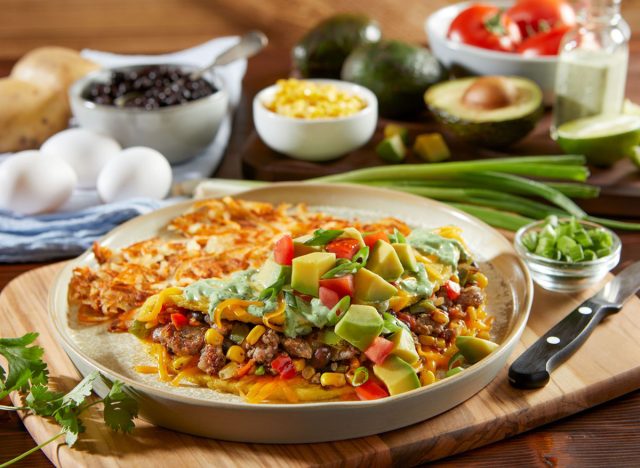 Per omelet: 760 calories, 60g fat (19 g saturated fat), 1,110 mg sodium, 14g carbs (4g fiber, 4g sugar),  40g protein
While avocados are a good source of healthy fats, this omelet contains many more ingredients that are full of unhealthy saturated fats.
"The Southwest Avocado Omelet at Bob Evans does contain a few nutritious ingredients like black beans, avocado, and tomatoes, but it also contains sausage, cheese, and lime cream sauce, which makes it high in total fat, saturated fat, and sodium," says Ehsani. "Not to mention it's also served with your choice of hash browns or home fries and biscuits, which are all high in total fat and lack fiber."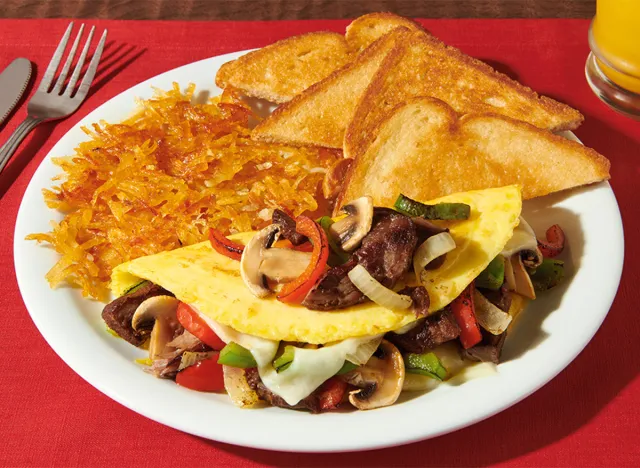 Per omelet: 711 calories, 53 g fat (19 g saturated fat), 1,180 mg sodium, 9g carbs (1 g fiber, 3 g sugar), 46g protein
Any omelet that has cheesesteak meat added to it means that it will be high in fat and saturated fat.
"The Philly Cheesesteak Omelette at Denny's is one that does pack veggies mushrooms, bell peppers, and onions, which is a nutritious addition, but it also packs prime rib steak and Swiss cheese, which bumps up the total fat, saturated fat, and sodium for this meal," says Ehsani. "Skip this one if you are looking for a healthy option."