We are in the dead of summer, with a few hot months behind us and at least one more in front of us. Seeing as how August can be one of the most brutal weather months in many states, it's only natural that everyone would be looking for ice-cold treats to keep cool when the sun is out. If for you this means heading to an ice cream shop in the afternoon, it may be helpful to be aware of some of the most unhealthy ice cream orders at popular chains near you.
You don't need to avoid these "unhealthy" orders entirely, but knowing what they consist of as far as calories, fat, saturated fat, and sugar can help you make a more informed decision when you're choosing what you want to cool down with on a scorching summer day.
To learn more about some of the unhealthiest offerings at popular ice cream chains, we talked with registered dietitian Mary Sabat MS, RDN, LD. Read on, and for shopping tips when looking for ice cream in the grocery store, check out 9 Healthy Ice Creams That Actually Taste Good.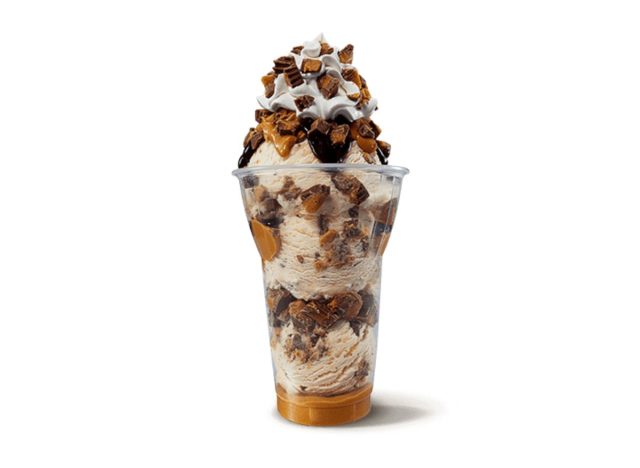 PER ORDER: 1,250 calories, 85 g fat (33 g saturated fat, 1 g trans fat), 740 mg sodium, 106 g carbs (7 g fiber, 87 g sugar), 28 g protein
A scoop or two of one of Baskin Robbins' famous flavors—like Cherries Jubilee or Icing on the Cake—will satisfy your sweet cravings without totally derailing your health goals for the day, but you may want to think twice before reaching for something bigger like the Reese's Peanut Butter Cup Ice Cream Sundae.
"With its high caloric content of 1,250 calories, excessive 85 grams of fat, 33 grams of saturated fat, and a staggering 70 grams of sugar, this sundae can undoubtedly be considered unhealthy," says Sabat. "Firstly, the high caloric content can lead to weight gain and obesity if consumed frequently, and the significant amount of fat, especially saturated fat, can increase the risk of heart disease and negatively impact cholesterol levels." Sabat also adds that "The excessive sugar content can contribute to insulin resistance, diabetes, and dental problems, and regular consumption of this sundae could also lead to a habit of indulging in nutritionally poor, high-calorie foods, which may result in an imbalanced diet lacking essential nutrients."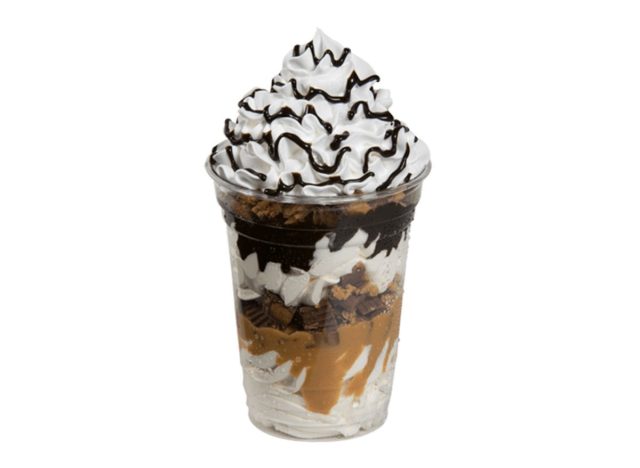 PER ORDER: 1,090 calories, 71 g fat (31 g saturated fat), 360 mg sodium, 86 g carbs (4 g fiber, 69 g sugar), 26 g protein
Another unhealthy ice cream choice—and also another Reese's-inspired option—is the Reese's Peanut Butter Sauce Sundae from Carvel. "With 1,090 calories, consuming this dessert contributes significantly to an individual's daily caloric intake, making it easy to exceed their recommended calorie limit for the day, and the 70 grams of fat, especially the 31 grams of saturated fat, pose a risk to cardiovascular health, as excessive saturated fat intake is associated with increased LDL cholesterol levels and an elevated risk of heart disease," says Sabat.
She also adds that "69 grams of sugar can lead to rapid spikes in blood sugar levels, followed by crashes, which may contribute to energy fluctuations and overeating."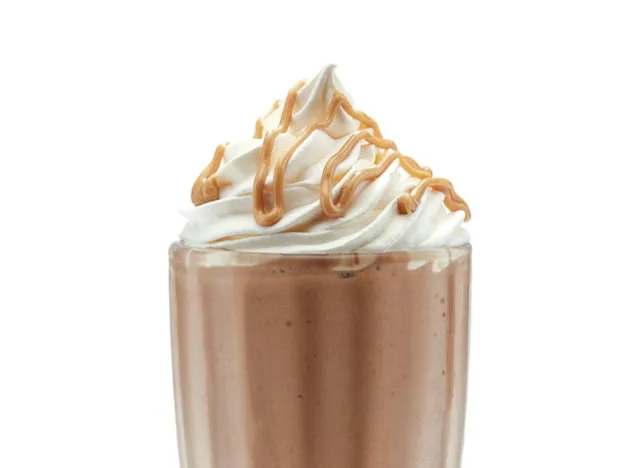 PER ORDER: 1,740 calories, 120 g fat (60 g saturated fat, 2 g trans fat), 750 mg sodium, 144 g carbs (8 g fiber, 125 g sugar), 35 g protein
By now it's safe to say that when you see any sort of ice cream shake or sundae with "Reese's Peanut Butter" in the name, it's most likely going to be extra high in calories, fat, and sugar. Sabat says that the Reese's Chocolate Peanut Butter Dream Shake from Cold Stone Creamery is another example of this being true.
"Regularly indulging in such a calorically dense and nutritionally poor shake can contribute to weight gain, obesity, and an increased risk of various health issues, making it an unhealthy choice for most people's diets," says Sabat. "It's essential to prioritize balanced and nutrient-rich foods to maintain overall well-being."
Treat yourself from time to time when you're craving the delicious combination of chocolate and peanut butter, but just be aware of what you're really consuming when you choose this shake.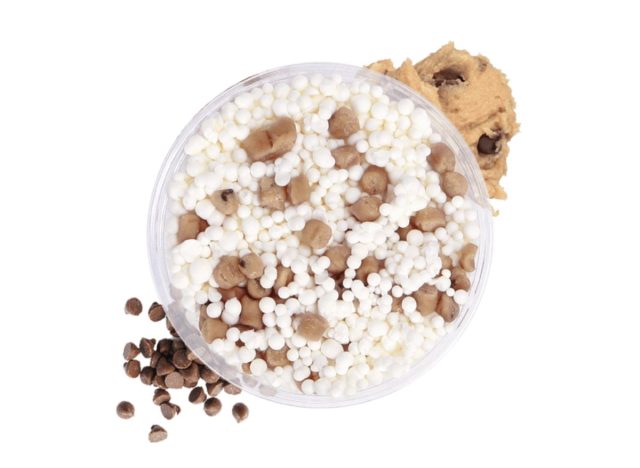 PER ORDER: 150 calories, 7 g fat (4 g saturated fat), 70 mg sodium, 20 g carbs (0 g fiber, 17 g sugar), 3 g protein
Dippin' Dots is the nostalgically unique ice cream that many of us remember from malls and theme parks in the 90s, but this beaded ice cream brand is still around and thriving. When comparing Dippin' Dots to other ice cream chains, most of their menu options are on the lighter side when it comes to nutrition. However, some flavors are better than others.
"Dippin' Dots' Chocolate Chip Cookie Dough may not be the worst choice compared to other ice cream options, but it still has several aspects that make it less-than-ideal for those seeking a healthy treat," says Sabat. "While Dippin' Dots may not necessarily be filled with harmful chemicals, the combination of high calories, fat, saturated fat, and sugar can be a reason for concern when considering the overall health impact of indulging in this ice cream regularly. For a healthier alternative, it's advisable to opt for smaller portions or choose ice creams with lower calorie, fat, and sugar content, while still enjoying the occasional treat in moderation."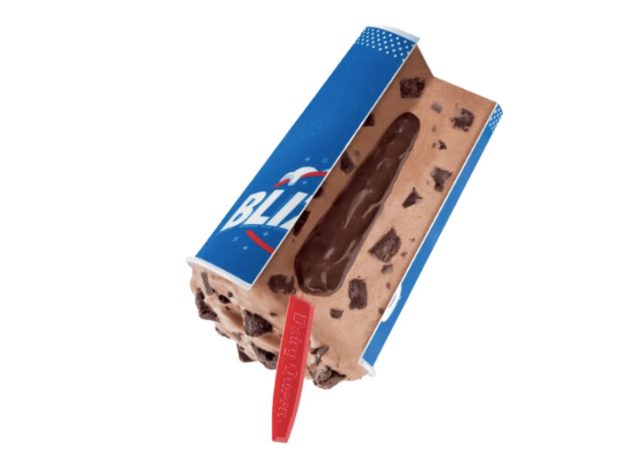 PER ORDER: 1,120 calories, 52 g fat (28 g saturated fat, 1 g trans), 510 mg sodium, 154 g carbs (6 g fiber, 120 g sugar), 22 g protein
It's not surprising that a large cup of chocolate ice cream with a fudge-filled center would be high in calories, fat, and sugar, but Dairy Queen's Royal Ultimate Choco Brownie Blizzard is shockingly high in all three of these categories.
"With a staggering 1,120 calories, it packs a massive caloric punch, which can easily exceed an individual's daily recommended intake, and the 52 grams of fat—including 28 grams of saturated fat—can contribute to heart-related issues, such as elevated cholesterol levels and an increased risk of cardiovascular diseases," says Sabat. "Moreover, the 120 grams of sugar in this dessert can lead to blood sugar spikes and crashes, negatively impacting energy levels and potentially leading to weight gain over time."
PER ORDER: 1,270 calories, 70 g fat (42 g saturated fat), 470 mg sodium, 143 g carbs (2 g fiber, 102 g sugar), 18 g protein
If you're craving a chocolate bar or ice cream, you may be better off keeping them separate, or at least steering clear of something like the Snickers Shake from Marble Slab Creamery.
The 42 grams of saturated fat in this shake equates to over three times the recommended daily amount, and the amount of calories is more than half of what the average person would need to consume in an entire day. Skip this shake and opt for a scoop of ice cream instead, or at least share it with a friend (or two).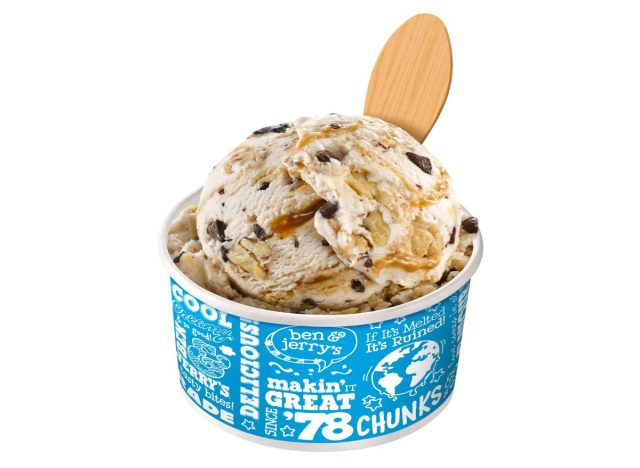 PER ORDER: 250 calories, 16 g fat (9 g saturated fat), 85 mg sodium, 24 g carbs (<1 g fiber, 19 g sugar), 4 g protein
When you look at most of the ice creams on this list, you'll see that this option from Ben & Jerry's isn't all that bad. But even though it has lower levels of calories, saturated fat, and sugar than many other ice cream chain options, the Coconut Seven Layer Bar flavor is one of the unhealthiest choices on its menu.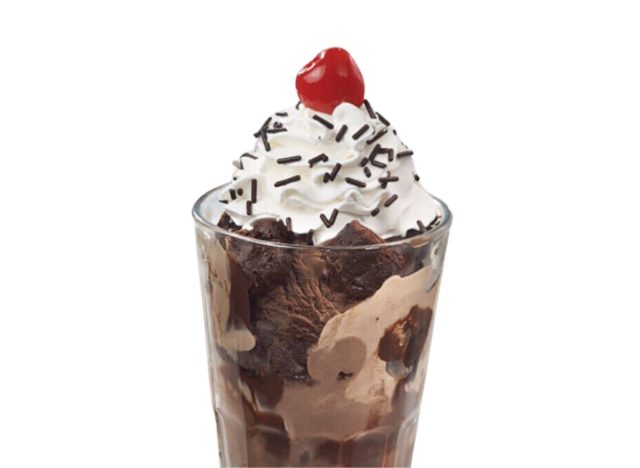 PER ORDER: 1,671 calories, 75 g fat (42 g saturated fat, 0.5 g trans fat), 641 mg sodium, 228 g carbs (5.3 g fiber, 161 g sugar), 22 g protein
Indulging in your favorite ice cream from time to time is important, but when one order of ice cream has close to a day's worth of calories and more than triple the recommended amount of saturated fat, it may be best to find something else entirely.
"The Friendly's Large Forbidden Fudge Brownie Sundae is the worst ice cream choice at this chain due to its high calorie content, excessive fat, and a significant amount of sugar," says Sabat. "It lacks any nutritional value, can promote weight gain, and can pose risks for heart disease, diabetes, and other health issues. Consuming such a calorie-dense and unhealthy dessert regularly is not recommended for maintaining a balanced and healthy diet. Moderation and healthier alternatives are essential for better overall health," she adds.
PER ORDER (3 scoops): 1,190 calories, 71 g fat (33.8 g saturated fat, 1.5 g trans fat), 510 mg sodium, 127 g carbs (2 g fiber, 101 g sugar), 17 g protein
When it comes to the ice cream chain Culver's, getting any of their 3-scoop sundaes will easily send your calorie, fat, and sugar counts soaring. But one of the worst available is their 3-Scoop Turtle Sundae, which comes packed with 1,190 calories, 71 grams of fat, and a whopping 101 grams of sugar.6254a4d1642c605c54bf1cab17d50f1e
"The Turtle Sundae 3 Scoop at Culver's lacks nutritional value and can cause blood sugar spikes and crashes," says Sabat. "While occasional indulgence is fine, regular consumption of such desserts can have negative long-term health effects, so moderation and healthier dessert options are advisable."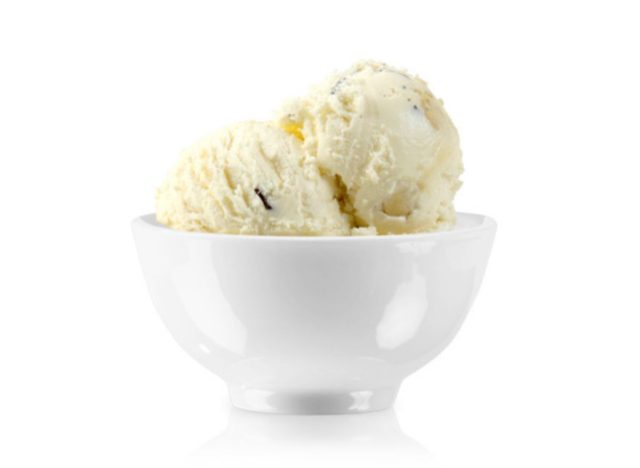 PER ORDER: 220 calories, 7 g fat (4 g saturated fat), 110 mg sodium, 33 g carbs (0 g fiber, 25 g sugar), 5 g protein
TCBY is a frozen yogurt chain that actually offers many healthier, lower-sugar and lower-fat options, so how "healthy" or "unhealthy" your order is will oftentimes depend on what you choose as your toppings. But if you're comparing the ice creams as is, the Chunky Chocolate Cookie Dough has the highest amount of saturated fat (4 grams) and sugar (25 grams).
"The worst choice at TCBY, like any frozen yogurt shop, would be a large serving of ice cream loaded with high-calorie toppings such as candies, syrups, and cookies," says Sabat. "Additionally, choosing full-fat and high-sugar flavors without any consideration for portion control can contribute to excessive calorie, sugar, and fat intake, which can lead to weight gain and other health issues if consumed regularly."
She adds that to make a healthier choice at TCBY, "You can opt for a smaller serving size, choose low-fat or non-fat yogurt options, and top it with fresh fruits, nuts, or other healthier toppings in moderation. Always be mindful of portion sizes and balance your indulgences with a generally healthy diet."